By Sarah Nicastro, Creator, Future of Field Service
We share a lot of stories of companies on the path to servitization or outcomes-based service – companies looking to leverage service more strategically by moving beyond their traditional product or break/fix models. I've recognized within the leaders I speak to a now common understanding that advancing service within their businesses is the way forward, but I do wonder how they've gained that recognition. Is it an active, true understanding of what's driving this evolution? Or is it more of a passive acceptance that this seems to be the journey everyone is on (and therefore we should be too)? The fact of the matter is that this is a journey everyone is on, so the latter mindset isn't wrong, but do I think that digging in to understand the forces that are driving this evolution can really help in avoiding some common pitfalls along the way. Click to enlarge the image.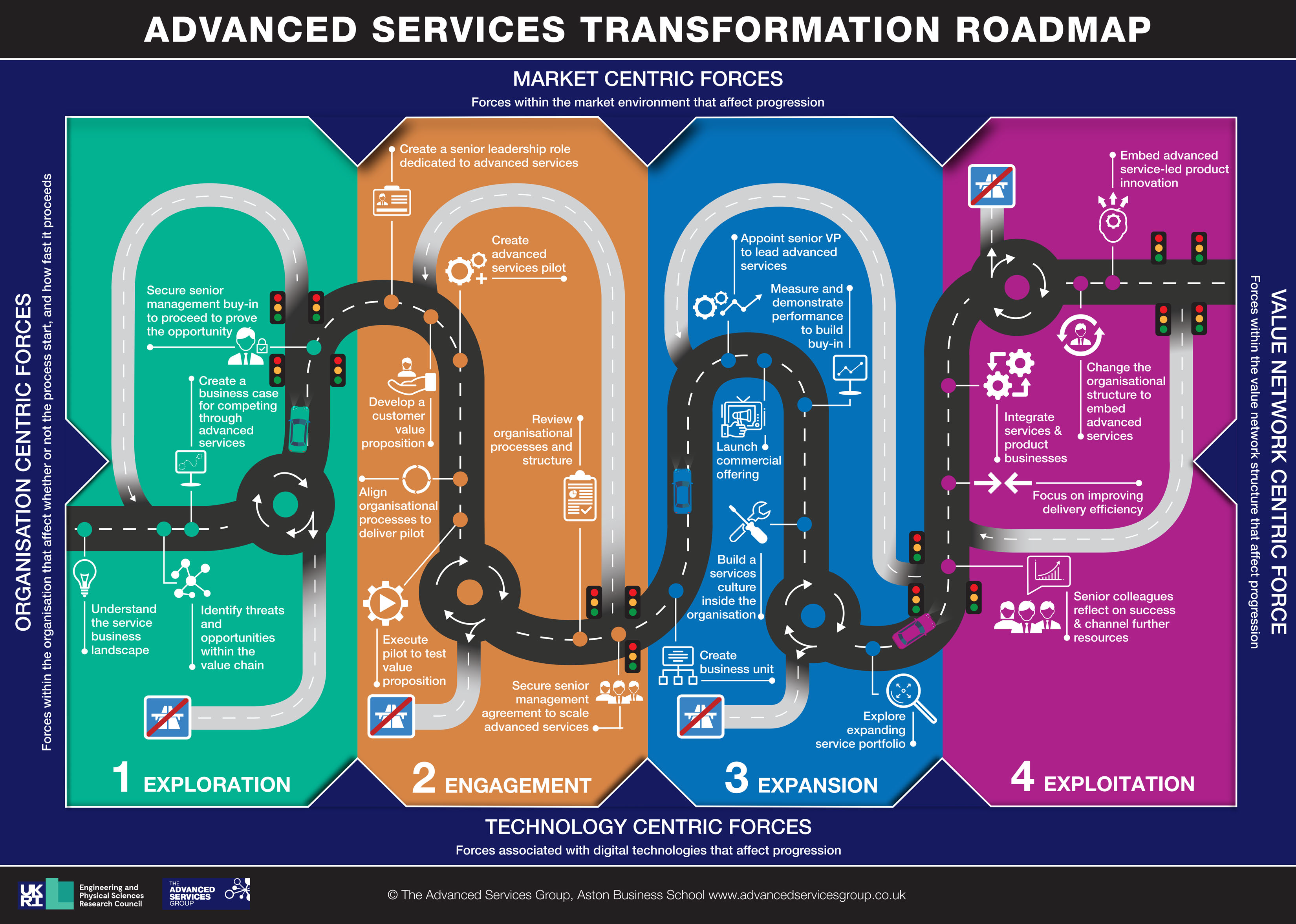 I had a conversation recently with The Advanced Services Group at Aston Business School and they shared with me the image you see here. I want to dig into some of what's illustrated in this image and discuss, in my own words, what it means when it comes to what's being demanded of companies undergoing service transformation today.
What's Driving this Service Evolution?
First, let's talk about the text you see around the perimeter of this photo – this is defining four forces that impact need for and progression toward what Aston refers to as advanced services. I believe that understanding these forces before you begin this journey is helpful in helping you chart a successful path. I'll discuss each and try to summarize what's important to consider.
Market-centric forces. I put this force first because I believe it is the most important. The market-centric forces are really what should drive your desire to evolve and what should dictate what the evolution needs to look like. The market-centric forces are what your customers need or want from you – they are the opportunity that exists for your company to do service in new and different ways to create revenue growth and drive profitability. But all too often, companies start with the desire to create that growth rather than starting with the market-centric forces that will ultimately provide it – this results in offerings created that "miss the mark" because you started without first understanding what your market wants from you. Market-centric forces are being shaped by companies like Amazon, Google, and Netflix that are leading in providing a stellar customer experience with the utmost ease. To really drive service success, you must begin with determining what your customers need and want from you. This entails both asking them directly, but also understanding that they may have unmet needs or desires they can't articulate – so also do some research on what unsolved problems they have, what else they are purchasing, and so on.
Technology-centric forces. In many ways, technology-centric forces are tied in with market-centric forces as the world's digitalization has completely transformed the customer experience across industries and brands. The market demands of things like guaranteed uptime, peace of mind, pay-per-X, real-time data flow, and super simple customer experience are made possible by how companies have transformed digitally. Just think about how experiences have evolved from even a few years ago – why would a customer call to schedule an appointment when they can easily self-book online or through an app? Why should a customer accept an eight-hour service window when technology exists to get the right person there at a specified time? Why would a customer accept a technician needing to return to complete a job because they don't have the necessary information/parts/skills to do so the first time? Why would a customer want to wait for downtime to ask for service when they could be guaranteed peace of mind? The technology that is driving these expectations is also what is enabling them. Look at the technology-centric forces as your catalyst to meet the market-centric demands that present the greatest opportunities for your business. You cannot achieve advanced service success without fully embracing digital transformation.
Organization-centric forces. This is where you begin to examine what within your company's current structure and processes will either spur you to or hold you back from success. Most often, we see the latter. The reality is that the change needed to evolve in the ways being demanded of companies on this journey is immense and far-reaching. This evolution can't be done in a silo, it needs to be a company-wide strategic initiative. What's required of companies to meet these market-centric needs reaches into every facet of the business – your value proposition is changing, how you market and sell needs to change, how you deliver service will change, how you develop products and take them to market will change, how you use technology will change. That's why this is a journey, not a sprint. There's no way to circumvent these organization-centric forces but knowing how important they are to consider, realizing how often they stand in the way of progress, and being prepared to tackle them head on is an important first step.
Value network-centric forces. When you begin to work through the last phase of the advanced services journey, you will realize that you could meet more customer needs and demands by working with others, or perhaps acquiring other parts of, the value chain. While this is good to be aware of, it's important to work through the other forces and steps of the journey before really needing to dig in to this aspect and I think, for the most part, the majority of companies we speak with are not quite here yet.
Charting Your Path to Advanced Services Success
As you look at the main part of the image, you see that The Advanced Services Group has defined four phases on the roadmap to advanced services: exploration, engagement, expansion, and exploitation. I would say that most of the companies I interview are in the engagement or expansion phases, although some are certainly still exploring, and few are in the exploitation phase. Taking a detailed look at this roadmap, and The Advanced Services Group's research in general, is well worth your time. But I'll comment here on what I'd pick out as the most critical step in each phase of the roadmap based on my observations of where companies most commonly veer off course.
Exploration. Okay, I lied – here I have two points to note. First is understanding the business landscape. This goes back to all that I said above about digging into the market-centric forces. You must start this journey from a place of understanding your customers' wants and needs, what the competitive landscape is for those, and how you are able to meet those needs. Beginning this journey from an uninformed perspective to "grow revenue" is a recipe for failure. Secondly, secure senior management buy-in. As I said before, this evolution is a company-wide strategic play – it can't be done in a silo and the willingness to do the work must be shared.
Engagement. I think the idea of hiring a senior leadership role dedicated to advanced services is important. Achieving success in this transformation while also trying to "keep up with your day job" is a tough proposition. Someone dedicated to researching, planning, testing, and implementing specifically on this is a good investment (and I'd note that this could also be a promotion from within or a dual role as long as the person is given the time to dedicate to this).
Expansion. What stands out here is the importance of building a service culture. Recognizing the need to manage this change at the company-wide level and considering how the culture will need to evolve is really important, because this can be a sticking point for many organizations even after significant progress in the first two phases has been made.
Exploitation. Thinking about what the integration of products and services will look like is important. The marrying of these two things is really what most customers are after – it provides a more seamless experience and is what helps you achieve the trusted advisor or solutions provider (versus product or service provider) status in their minds.
Being able to hear about and witness so many companies' journeys to advanced services is really neat – I love the conversations I get to have and the collective perspective they bring. The Advanced Services Group is putting on a virtual World Servitization Convention September 14-16 which I'll be speaking at. If you're interested, check out the agenda and join us.