By Tom Paquin
This week, Gartner once again released its Magic Quadrant, evaluating Field Service Management software vendors on their ability to effectively provide solutions to their customers.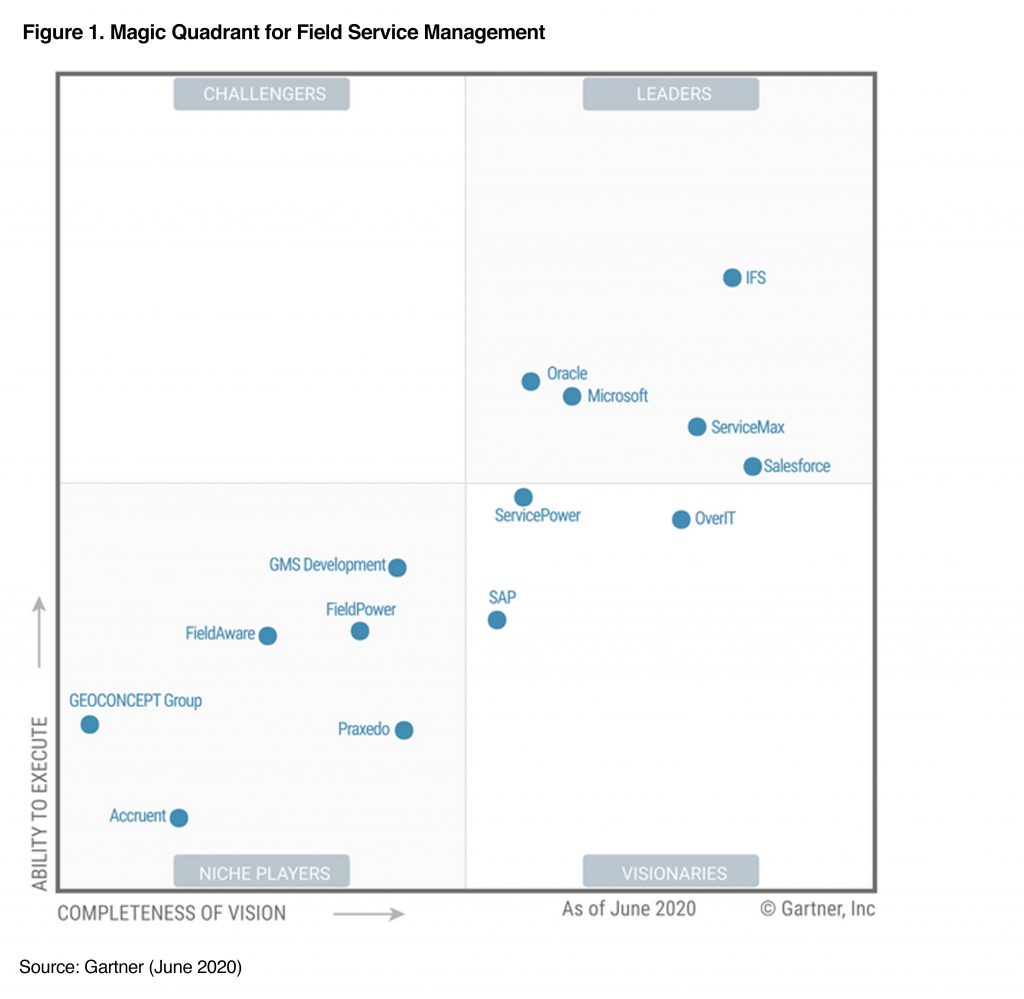 The report is, as always, not just an assessment of the various vendors in the service industry, but also an overview of the state of the service market today, and what's clear to me through Gartner's market assessment is that service is becoming even more vital than it has been to the success, continuity, and growth of businesses in all sorts of different industries.
So knowing all this, and preparing for the future, what has Gartner identified as major market trends, and how can you prepare your business? Here are three areas noted in the report that you should be considering for your business today.
Outcomes-based Service
As Gartner writes, "Of 54 respondents, one-third were already offering this model, up from 19%, and 34% indicated that they intend to offer this model within the next 12 to 24 months." This means that more than half of organizations will be moving towards an outcomes-based service model. This is an obvious move for forward-thinking organizations. By building their business plans around outcomes, rather than selling warranties, you build long-term contracts that extend beyond the lifespan of a given product, and you offer your customers something more valuable than the promise to resolve issues. It's something we're eager to discuss here, and do some with some frequency.
Of course, in order to do outcomes-based service right, you need to actually be measuring and managing internal systems, whether it be asset-centric, or in terms of the speed and effectiveness of service delivery. For example, if you promise a 4-hour time from ticket to resolution, you'd better not only know you can do that, but also make sure that doing so is actually profitable. Getting that right naturally benefits from smart optimization.
Knowledge Management
As Gartner notes, "Although virtually nonexistent for technicians only a short time ago, about two-thirds (64%) of 63 responding reference customers to our latest survey said that they are using or plan to use knowledge management for field service within the next 12 months." Knowledge management is no joke, and with an influx of new, inexperienced technicians replacing an aging workforce (my last study had technician turnover hovering around 50% annually) getting it right is the key to successfully managing your business.
What tools you use will depend on your business, but manuals on mobile devices might not be enough. Many organizations are finding great success with augmented reality and remote assistance as a means to quickly upskill technicians by offering them a virtual mentor watching them over their shoulder.
Zero-touch Service
While within the context of our current challenges with COVID, this has taken on a slightly different meaning (and has been mitigated by tools like the AI ones discussed previously), in this instance, we're discussing the ways in which businesses schedule and manage service visits. Gartner writes, "In 2017, Gartner predicted that, by 2020, 10% of emergency field service work would be both triaged and scheduled by AI, up from less than 1% in 2017. Of the surveyed reference customers this year, which represent a small but often leading portion of the overall market, 23% indicated that they already schedule some work automatically."
Getting this right starts with a robust customer experience tool, and emanates from asset management as well. Solid IoT systems can dispatch technicians before customers even realize there's a problem, and chatbots can be calibrated to respond accurately to challenges and recommend the right solutions. There are a great deal of tools that support zero-touch, and it behooves the service professional to choose tools that take the fullest advantage of inputs available today, as well as the openness to handle potential new technologies as they come online.
With these broad-reaching changes impacting the industry, it's important to build a plan with proven partners that understand your business, and have tools that cater to the way you do service, not force you to cater to them. For more trends impacting the industry, and the full vendor guide, click here to access the report.